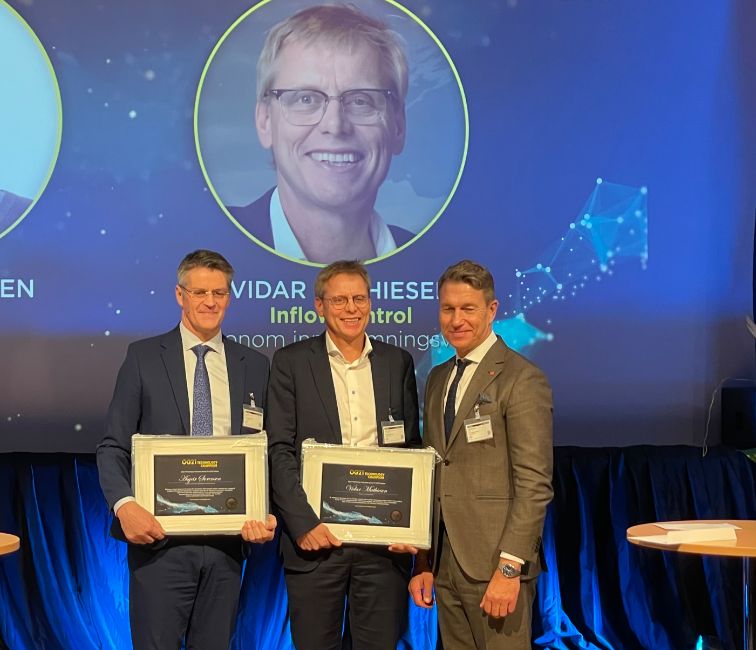 16/11/2023 by InflowControl
Winner of OG21 Technology Champion Award 2023
The OG21 Technology Champion Award for 2023 goes to Vidar Mathiesen, CEO of InflowControl. He is awarded for outstanding efforts and technological innovations of great importance to the petroleum sector as well as other industries. 
Dr. Vidar Mathiesen, CEO of the Norwegian technology company InflowControl, and his team have developed the Autonomous Inflow Control Valve (AICV®) that is used to limit unwanted water and gas production from oil wells. It has so far been installed in 275 wells on 5 continents. The technology results in significantly lower greenhouse gas emissions, reduced costs, and higher recovery rates. Dr. Mathiesen was instrumental both for the establishment of InflowControl and for the development of the AICV® technology from idea to broad implementation. He is a true entrepreneur who has shown determination and stamina to bring technology to commercial success.

Dr. Vidar Mathiesen stated "This award is proof to the dedication, innovation, and excellence that defines InflowControl. I am proud to lead such a talented group of people who push boundaries and strive for success. I am receiving this award on behalf of InflowControl, as a motivation to continue our commitment to delivering value, driving positive change, and making a meaningful impact in our industry. We are a team brave enough to challenge the existing, bold enough to believe we can change the industry, and talented enough to do it. 

Thank you to the award committee for this honor, and to our customers, partners, and stakeholders for their support and trust in our vision. This achievement belongs to each and every member of our team – it is your hard work and commitment that have made this possible." 

Thank you to OG21, The Federation of Norwegian Industries, The Research Council of Norway and The Norwegian Petroleum Directorate.